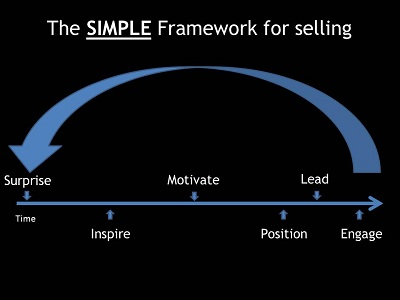 In an earlier blog post, I had introduced the "SIMPLE" framework to increase your sales effectiveness.
The first step in the process is to be able to "Surprise" your customers with an insight or point-of-view that they are not yet aware of.
This step is essential in improving the sales effectiveness as this enables the sales teams to initiate the process rather than wait for their customers to come to them with a requirement.
There are three ways that sales teams can come up with insights that can truly surprise the customer. Some of them are as below:
Network: One of my mentors, who was a CEO of a 100 Million USD manufacturing business, used to spend a considerable amount of time with a specific sales executive from one of his suppliers. When I asked him the reason for this special treatment for that particular sales executive, he explained to me the reason. That specific sales executive always ensured that he met the warehouse manager to know the current stock level of his SKU's; met the manufacturing head to check if the quality of his material was as required; met the sales head to understand the sales forecast trend and then came to meet him. My mentor would then talk to him about what his impressions were about the business and get an outside-in perspective about what is happening inside his own organization. This helped him uncover things that he could have never come to know, even if he asked his team directly, due to a variety of reasons.  Most organizations suffer with  complexity and silos. If sales teams are able to network across the various silos will be able to identify blind spots which the leaders themselves would not be able to identify themselves. Some of these insights can serve as a great starting point to initiate a discussion. This also provides you options about which insight do you use to initiate the discussion, based on where you could add the most value.
Customer Journey Maps: Use customer journey mapping to understand their customers and key partners. Customer Journey maps enable you to understand the business of your customer from the perspective of their customers and partners. This view is also unique as not many organizations cultivate this outlook voluntarily. Even if they do, they would truly appreciate the effort that you put in to understand their business from their customers perspective. They would then want to explore if your findings are similar to theirs. In both the cases, this always results in a dialogue about what are some of the unmet challenges that could be holding your customer back from achieving the kind of success they are aspiring for. In both the cases, you have initiated a high value conversation with not just the key decision makers but the larger team.
Connect & Combine

: Another way to gain insights is for you to be able to connect and combine seemingly disparate things and apply them to a specific situation. Can you connect & combine ideas from different industries, which can be adapted in a way to help your customer address the challenges that they are facing in pursuit of their aspirations. 
These ideas are powerful in and by themselves to help you uncover truly surprising insights that will enable you to start an interesting engagement with your customers. However, the true power of this approach comes when you apply all the three together to come up with not just an insight that you could share with you customer but also different perspectives of the same insight (their customer perspective, internal stake holder perspective & your perspective).
All said and done, this is hard work for the sales teams to engage in. However, if you are selling a product that is high value and complex to sell, this approach will get you a strategic advantage in the entire sales process, as you now not only participate in the sales process, but are leading the process. This is a BIG difference from responding to RFQ's and RFP's and trying to play catch-up with your competitors.
This is the first step in the SIMPLE framework to improve your sales effectiveness.
Have you ever been able to surprise your customers? If yes, how? Did that lead to an opportunity? Were you able to close the sale? How easy/difficult was that in comparision to your other deals?
Do share your feedback so that we can all learn.
Connect with me on Twitter, LinkedIn, Facebook or Google+ to continue the conversation.
You can also sign-up for the my fortnightly sales newsletter here.