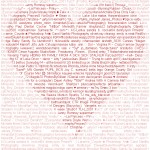 Valentine's Day is a day when we don't fail to wish and take special care of our loved one's.
So, why not spread the love to our customers, who are also special people in our lives (after all, we spend a significant amount of time with them or thinking about them).
So, what could you do this Valentine's Day for your customer:
Send a hand written thank you note to the key people who have worked with you in the recent past (whether as part of a sale – won or lost, more importantly so if you lost the deal).
Send a book that is relevant to their current role or situation, with a small note thanking them for their love and support.
Send an e-bay now gift card.
Send a box of chocolate, with a hand-written note thanking them for their love and support.
List down all the people in your organization, partners and customer/prospect contacts who have helped you in the past. Call them each and say thanks.
If you like to draw or doodle, create a thank you doodle and send it to your prospects.
Everyone receives gifts and thank you notes during thanksgiving or christmas or new years. Nobody sends a gift to their customers during valentines day.
This is your time when you can stand out from the crowd and make an impact. And it the customers feel that you have been genuine in your emotions, they will reciprocate and you now have an opportunity to create a stronger bond with them.
I wish you a very Happy Valentine's Day to all my subscribers and regular readers! If this is your first time, I do wish you a great day with your loved one's and hope that you will come back again and hopefully subscribe to my blog.
If you do follow any of the above ideas, do share the result of the same.
PS: After publishing the post, I found out that there is a site, where you could buy "Business Valentines Day Card" for $1.99 each. You can check out the site here.