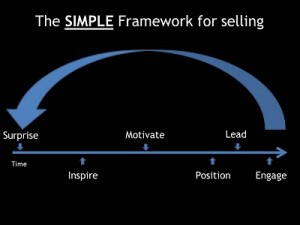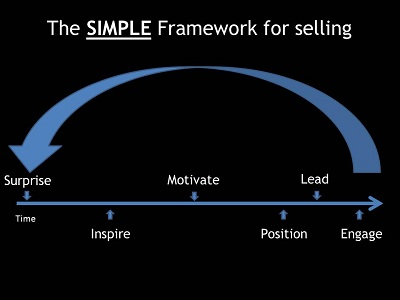 We are currently at the 5th stage in the SIMPLE Framework for winning at B2B Sales. If you have not already read about the first four steps (Surprise, Inspire, Motivate & Position), I would strongly encourage you to go back to those posts and read them in the right order.
The fifth step in the process is where most of the sales teams lose the deal to their competition. It is not enough to position yourself or your product/service/expertise to solve a need you helped your customer identify, you need to lead them through their decision cycle so that you are in the driving seat of the engagement.
What do we mean by leading?
You need to help your contact at the customer organization and help them in
Create a RoI or time-to-value point-of-view
Most organizations don't invest in any product or service unless they are able to see a clear RoI (you can find my thoughts on RoI, more specifically to IT investments here). As the sales executive, we always need to be leading the engagement, which means that we should be actively helping our prospects to show a clear RoI on the investment. If there is a better measure than RoI that you think should be considered, help them put together that metric as well (in addition to the RoI).
Note that this is only a point-of-view document, which reflects the opinion of the teams involved in the purchase evaluation teams. Do not position this as a factual document (which is what most teams do and when the actual RoI calculated is not even close to the RoI calculations that were presented whilst making the decision, which is almost always) but as a well thought out point-of-view document, with assumptions that have been made to arrive at the point-of-view clearly listed down in the same document.
Create a risk of not doing this point-of-view
Almost all research has pointed to the fact that most sales are not lost to competition, but to inertia. So, you can help your prospect also create a "Risk of Not Doing This Now" point-of-view document. When done well, this reinforces the need for taking a decision and going ahead with the purchase for the team and their senior executives.
This also serves as a record for why the decision was taken, which in hindsight can be a valuable document to have.
Identifying the right stakeholders & help getting their buy-in
In any B2B sales situation, there are multiple stakeholders involved in the sales cycle. If you have done the previous 4 steps well, you would already know the various stake holders and have already built in their buy-in.
Now you need to help the purchase team get the formal buy-in from these stakeholders.
Identifying the key risks involved (yes, you need to actively help them identify them)
Most decisions involve some kind of risk. You need to help the team identify the risks involved in going ahead with the purchase of your product/service. By actively helping your customer/prospect identifying the risks involved, you not only gain the trust of the customer, you can also ensure that all the risks are identified & documented.
This also provides you a good platform to position some additional value added services that you and your team could provide in addition to the product/service that is already being discussed.
Create a mitigation plan
Its not enough to identify the risks, you also need to help your customer create a mitigation plan for the risks identified.
This is a good time to bring in a customer who has already been there, done that, to share his/her experiences and learnings with the customer. This provides you a great platform to reinforce the trust that you are indeed the right partner for your customer.
Create a change management or a execution plan
Any significant product/service purchase requires an execution plan and if it involves any change in the way employees at your customer organization work/communicate (which is true in most situation), help your customer create a change management project along with the implementation project.
Leading is a lot of Work
I know that this is the work of your contact at the customer organization. However, if you are to lead the engagement, you need to be involved in all of these steps as well.
Also, this is an exercise that if done well, practically ensures that you will win the deal.
Ask for the Deal & Close
And, the most important activity in this phase is to actually ask for the close. And once you reach this stage, you ask them to sign on the dotted line. This is when the final negotiation regarding prices will be done. If you have done all the 5 steps well, you losing the deal because of price will be a rarity.
Lead your Internal Stakeholders
You then need to lead your internal teams/stakeholders to ensure that the closing experience for your customer is smooth and without any hassles/surprises.
This is the experience that your customers will remember for a long time and it is critical to ensure that everything goes well.
Once closed, ask for a reference
The last activity in this phase is to ask for a reference. This if done well and consistently, your organization will always have enough pipe to work on.
This process doesn't stop here. We still have one last phase – Execute, which I shall cover in a later post.
Your Turn
Do you have any further suggestions on how to close the deals? Do share them here and lets continue the conversation.