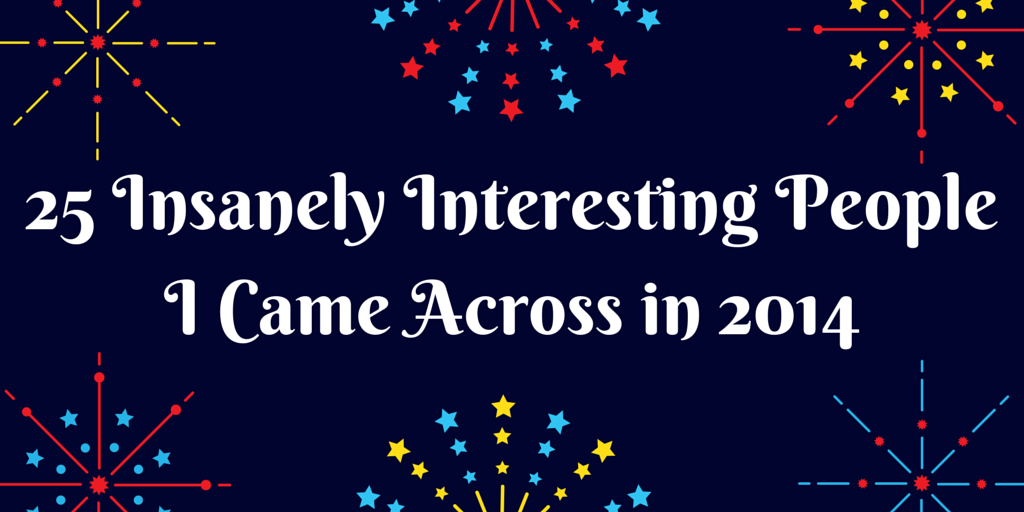 One of the goals that i had for 2014 was to discover new people and learn from new sources. I must say that I was fortunate enough to discover these people online and learn so much from them.
So, here is a list of some of the insanely interesting people that i came across in 2014. I do hope you will find some of these people and the great work that they are doing interesting enough to start following them.
Bernadette Jiwa: She has a great blog called "The Story of Telling". This is one of the best blogs that i have come across from a marketing perspective. She has a unique gift of sharing marketing insights by the way to telling short, sweet and interesting stories. I hope I am able to convince her to be a guest on my show sometime soon. Follow her work if you think you are in the business of telling stories (which is what every brand does, right?)
Dan Rockwell: I discovered Dan accidentally and have become a big fan of his posts on leadership. He has a unique way of writing in lists and is to the point and hits your gut as a leader. You must follow his work if you are in a situation where you have to lead people or if you aspire to be a leader someday.
Paul Castain: I was part of his Sales Playbook group on LinkedIn for sometime but I really discovered him when I was looking for thought leaders in the field of sales management. He brings with him so much positive energy and tongue-in-cheek humor that it is impossible to ignore him once you get to know him. He was one of the earliest guests on my show. You can listen to the awesome conversation we had here. I had also recommended his podcast on my podcast recommendation earlier this year.
Jeffrey Baumgartner: I was part of his newsletter for sometime but I really got to know him and his body of work when I interviewed him for my podcast. He is quirky, funny and creative, all at the same time. If you are interested in Innovation and creativity as a topic, you should check out his Report 103 newsletter. He was on my show and his episode is one of the top 5 downloaded episodes on my show.
Mitch Joel: I started listening to his podcast "Six Pixels of Seperation" and I must say, that i have learnt so much about marketing. I had also recommended his podcast on my podcast recommendation. He was kind enough to agree to spend time and record an episode for my show. The same is in post-production and will go live shortly.  He is insightful, articulate and interesting at the same time.
Gary Veynurchuk: I discovered Gary late and once I found him, I just couldn't have enough of him and his brand of marketing. He is not only insanely interesting, but witty and smart at the same time. I totally get it when he says that "Marketers ruin everything" and is a big advocate of the good old  'Hustle'. I do hope that i can host him on my show sometime soon. If you are a business owner or a marketer, you must follow him and his work.
Meron Bareket: I discovered Meron by accident as I stumbled upon his podcast "Inspiring Innovation". Since then, he has become a friend, guide and mentor. I have learnt everything I know about podcasting from him and his course. He was also one of the first guest that I had on my show. He has a clarity of thought and purpose that I am jealous of.
Srini Rao: I found Srini Rao from the Unmistakable Creative also through his podcast – Unmistakable Creative. The variety of guests that he brings on his show is simply astounding to say the least. Can you think of a show that has hosted a Bank Robber, an olympic coach (high performance trainer), someone who rode a bike from Berlin to India and yet connect them all for his audience. He is Unmistakable in his work as the Unmistakable CEO.
David Burkus: I found David when I was looking to host someone who could share a lot of information about the topic of Innovation/Creativity. He is insightful, articulate, witty and intelligent at the same time. If you are interested in the topic of Innovation and Leadership, you should definitely follow his podcast LDRLB (called Leader Lab). He has also written the book The Myths of Creativity. He was on my show and we had a great conversation about his book. You can listen to the episode here.
Anaggh Desai: I have been following Anaggh on twitter for the past couple of years. However, I got to meet him and know him a little bit this year as he agreed to be a part of my podcast. I was blown away by his knowledge about the service industries and his thoughts on how brands should be thinking and acting in the marketplace. He is the only person I know of who tweets insightful nuggets about people whom he interacts on twitter every year. I must admit that this post is also inspired by his current list which you can follow using the hashtag #ADYFR2014. He has a loyal following on twitter which is really high on engagement. If brands need to learn how to be social on social media, they can learn from him and his tribe of followers. He was on my show and you can listen to the same here.
Shane Parish: I am a big fan of the Farnam Street blog that Shane maintains. His ability to gleam all the insights from some of the best books ever written and to summarize it in a way that people can not only understand the key premise of the book but also be intrigued enough to go and buy the book. If you love reading books, you must subscribe to his blog. I do hope to have him on my show sometime soon.
Devdutt Pattnaik: I discovered him through a YouTube video where he was talking to a bunch of startup founders about the Indian mythology and how it relates to running or managing a business. I find his work to be very interesting as he covers and converges two of my most interesting topics in a way that i have not seen any one else do. He is inspiring, practical, knowledgable and creative at the same time. If you are even slightly interested in the mythology and lessons for business from mythology, you should definitely follow his work. Hopefully, I should have him on my show soon.
James Altucher: I got to know James by stumbling on to his blog. Then I started listening to his podcast. Then I bought his book – Choose Yourself . I am blown away by his honesty, courage and his ability to fight back from disasters to becoming successful again. To a certain extent he has redefined what it means to be authentic and successful for me. He is in his inimitable style, prolific, authentic and smart at the same time.
Scott Jordan: I found him accidentally on YouTube in a video which he was using as a Press Release. The more I researched about him the more intrigued I became. He founded and runs one of its own kind apparel company – ScotteVest. In my opinion, he is the epitome of hustling to succeed kind of entrepreneur, a rare breed indeed. He agreed to be on my show. The episode will go live sometime soon. He has the presence of mind and clarity of purpose that is critical for success for any entrepreneur. His ability to create news worthy content is really phenomenal. Follow him and his company for the remarkable product that they have created and as much as the phenomenal culture that they have built within their organization.
Howard Moskowitz: I came to know Howard while listening to an episode of Mitch Joel's podcast and asked him to be on my show. I am blown away by the knowledge that he possesses, the kind of work that he has done, the impact his work has had on our world. Malcolm Gladwell dedicated an entire TED talk to the work done by Howard speaks for itself. Despite all of this, his enthusiasm for his work is un paralleled. The episode featuring him would be the first episode of my show in 2015. You can have a sneak peak of the unedited recording of the conversation here.
Kevin Roberts: I have thoroughly enjoyed reading the insightful blog posts that he writes. His blogs are easy to read & highly insightful. Follow him for the simple yet profound blog posts that seem to arrive (at least for me) when I needed them the most.
Vivek Muthuramalingam: I stumbled upon the work of this Doctor turned photographer by accident when I saw his work exhibited at one of the galleries in Bangalore. I instantly liked and respected him for his work. He comes across as a shy photographer, but beneath that exterior is a great photographer and an even better story teller. I will be recording an episode with him for the show shortly.
Pat Flynn: One of my goals this year was to explore and create a passive source of income and when I was looking for ideas, I stumbled upon Pat Flynn and I have never looked back. I listen to every single podcast episode that he puts out. I love his honesty and the single minded focus on his niche and his audience. He is interesting, curious and honest in a way I have rarely seen. Follow him if you are looking to creating a passive income for yourself.
Michael Hyatt: I don't remember who introduced me to Michael's work but since I did, I have fallen in love with his work. His podcast episodes are interesting, insightful and full of practical tips that we can implement in our lives immediately. Follow him if you are looking to succeed in life and not just in business.
Todd Henry: I was blown away when I read the book Die Empty. Since then I have followed the work of Todd and have never been disappointed. He talks about the stuff that it takes for us to be creative on demand, which is a key skill in the knowledge economy that we live in. He is fast, creative and full of practical advice. You should follow him and his podcast if you are a creative and are on your way to success.
Mike Michalowicz: I have been a subscriber to Mike's blog for the last couple of years but I really discovered him and his work this year. He is not only a great entrepreneur, author (Profit First, The Pumpkin Plan and The Toilet Paper Entrepreneur) but a great story teller. His energy and enthusiasm is contagious and his insights on entrepreneurship is simply mind-blowing. He is funny, witty, insightful and interesting, all at the same time. He agreed to be on the show and the episode will air shortly (you can check out the unedited conversation here). If you are running a small business and are looking for solid advice & practical tips on how to grow your business and its profitability, you must follow his work.
Daniel Kahnemann: I had heard about Daniel Kahnemann and his work being used as a reference in many books including "Predictably Irrational" by Dan Ariely (i did not include him because I have read almost all his work in the past couple of years). However, I truly understood the significance of this nobel prize winning author when I listened to his book "Thinking, Fast and Slow". I was just blown away by the comprehensiveness of the book and the insights that was shared in the book. If you are in the business of influencing decisions made by others, you MUST read his book. I would be really lucky to host him on my show.
Dan and Chip Heath: I first came across their book "Made to Stick" and was so blown away that i had to buy and read all their work (Switch & Decisive). I have since become a big fan of their approach of writing a book. They have simple exercises at the end of chapters which helps you not only understand the concepts but also practice them. I do look forward to hosting them on my show sometime soon. You must check them out if you are in the business of influencing people.
Marie Forleo: I found Marie through one of her YouTube videos and have since become a big fan. Her videos are not only informative in the sense that they give practical advice on succeeding as an individual but are extremely well produced. She herself is witty, funny, extremely good looking and intelligent, all at the same time. Really love her tweetables in every video. Her ability to have fun while doing important, life changing work is what I have learnt from her.
Bill McDermott: Though I work for SAP and he is the CEO of SAP, I never know about him as a person. I did not know about his career, the choices he made and the principles or values that he lives by. Reading his book Winners Dream, not only inspired me to dream big but also reinforced my commitment to the company he is leading. I now seem to know & understand his decisions much better. I do hope that i am able to work with him directly sometime and interview him for my show sometime soon.
This has been a very difficult list to put together as this year has been a year when I looked outside of my regular comfort zone and my little circle of friends and influencers to broaden my horizons and understanding.
I must say that Podcasts on iTunes, Audio books from Audible and YouTube videos played a big role in me coming face to face with most of these great people. Having a podcast (Pushing Beyond the Obvious) also helped a lot to get them to spend time with me so that i can not only read/listen to the content that they create, but also to know them as a person. That has allowed me to not only relate to their work better but also understand the context of their work.
I do look forward to continuing to follow and consume the great content that they put out but also look forward to discovering new, insanely interesting people in 2015.
IF you have a recommendation about someone whom I should follow, please share the same here as a comment and i would be really grateful to you. Also, if you think someone has influenced you a lot in 2014, it would be great if you could share about them here as well. If nothing else, this will be a public statement of gratitude for them and their work.