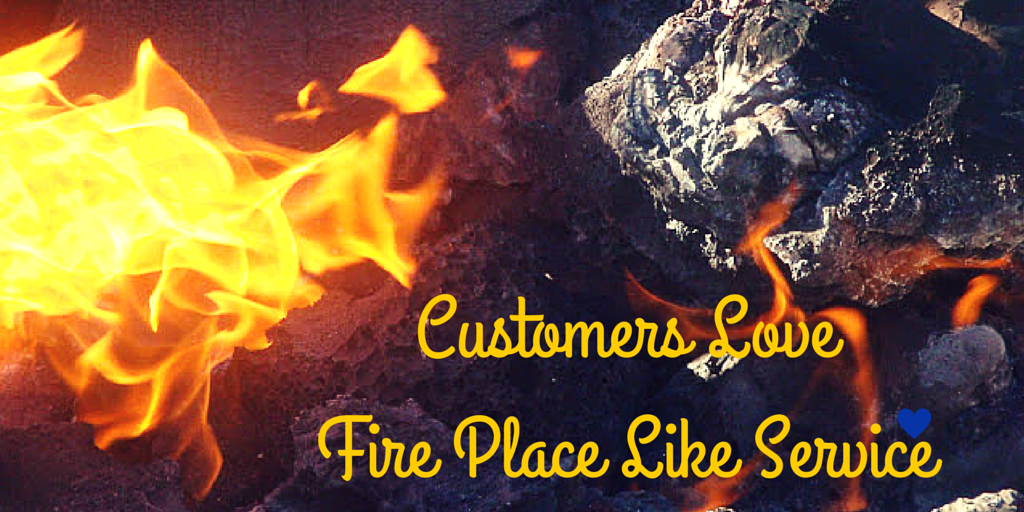 Today, we have a guest post from Chip R. Bell. He is a renowned keynote speaker and best-selling author. 
Here is Chip's post about great customer service:
I admit it! I am a hopeless romantic. So, I see things through "Nicolas Sparks" eyes. And, fireplaces are a great venue for most people of my persuasion. Picture this: you are with your special person, you each have a glass of great wine in hand, there is amorous music softly playing in the background. What's missing from this scene? A fireplace!

There is no such thing as a bad fireplace. And, fireplaces generally come in two varieties—the ones with gas logs and the ones with real logs. Gas fireplaces are like a really good customer experience—it is nice to look at, warms up a chilly room, and is easy to operate. I have a gas fireplace in my bedroom that can be ignited with just the flip of a light switch.

But, then there are real fireplaces. You get the same heat and great looks as gas logs but with an added feature, especially favored by romantics. They have sounds and smells! The logs crackle and pop; the wood emits a smell that reminds you of a campfire with great stories being nurtured. Innovative service is like a real fireplace. Innovative service evokes an experience of authenticity, not just warmth. It stimulates many senses, not just a couple. And, innovative service kindles stories customers are eager to share.

So, what makes real fireplace-like customer experiences? They are constructed with care, lighted with passion, and stoked with the quest of making them extend a long time in the memory of customers.   Take time to orchestrate the setting of your service. Deliver the experience in a fashion that is personalized, valuable and delightfully memorable to those you serve. And, extend the experience with a special service souvenir, a follow-up call, or a sincere thank you.   Turn your customer experiences into a fireplace-like encounter and light up your customers as they heat up your bottom-line.
My take on this: 
One of the surest way for any organization to differentiate themselves from their competitors, known and unknown, is to design experiences for their customers which is not only worthy to remember but also makes them to talk and share their experiences with their friends and families.
We will also have him on our podcast soon. Watch out for the same here.
His newest book, Sprinkles: Creating Awesome Experiences Through Innovative Service, is now available on Amazon: http://bit.ly/AMZsprinkles. Find more resources at: http://bit.ly/CBsprinkles or visit www.chipbell.com to connect with Chip.