Podcast: Play in new window | Download
Subscribe: Android | Email | RSS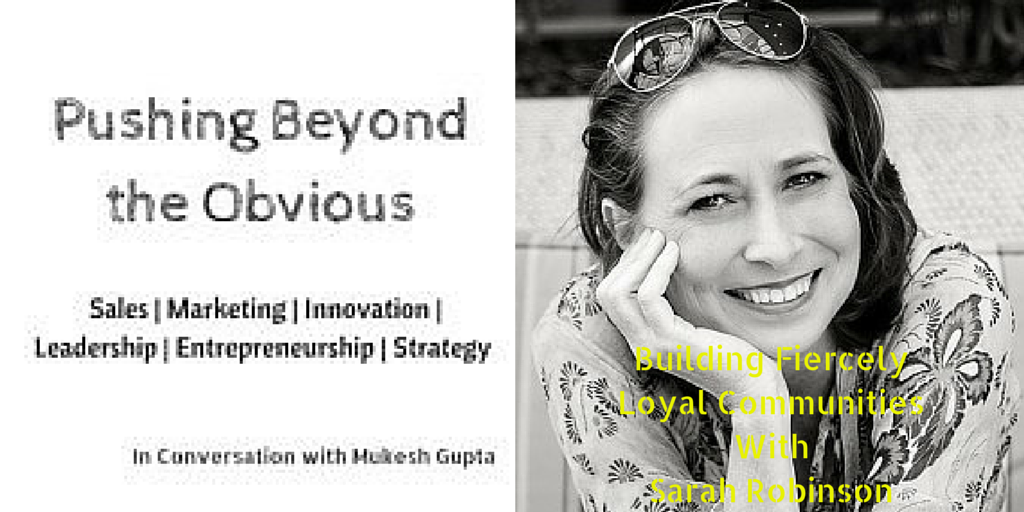 In today's episode, we host Sarah Robinson. She is an author, keynote speaker, entrepreneur and a consultant.
In my opinion, she has great ideas about how to create fiercely loyal communities.
In this free wheeling conversation, we talk about the importance of building a fiercely loyal community, what defines a fiercely loyal community and how can brands go about building this kind of fiercely loyal communities.
Most important learnings from the conversation:
In a world where consumers and customers can share their experiences with each other, the relevance and importance of advertising and marketing messages is constantly shrinking.
People today have the ability to form communities with or without the support of a brand.
Brands with fiercely loyal communities seem to be much more profitable and much more loved than other brands. Harley Davidson, Apple, GoPro being cases in point.
The biggest challenge for a brand to support a community is the fear of letting go of control over their brand.
A community is fiercely loyal if

They are proud of the brand and are willing to flaunt it.
They trust the brand and the members of the community itself.
They are a tribe of passionate people.

Things that brands can do to enable their communities are

Create connection points
Create support points
Bring in predictability

Building a fiercely loyal community is about doing the basics of business right (good product, good support, good strategy, etc) and allowing your customers to do the rest.
Fiercely loyal customers will do the best marketing for their brand, the kind that brands can't buy.
You can reach Sarah on Twitter.  You can buy her book Fierce Loyalty.