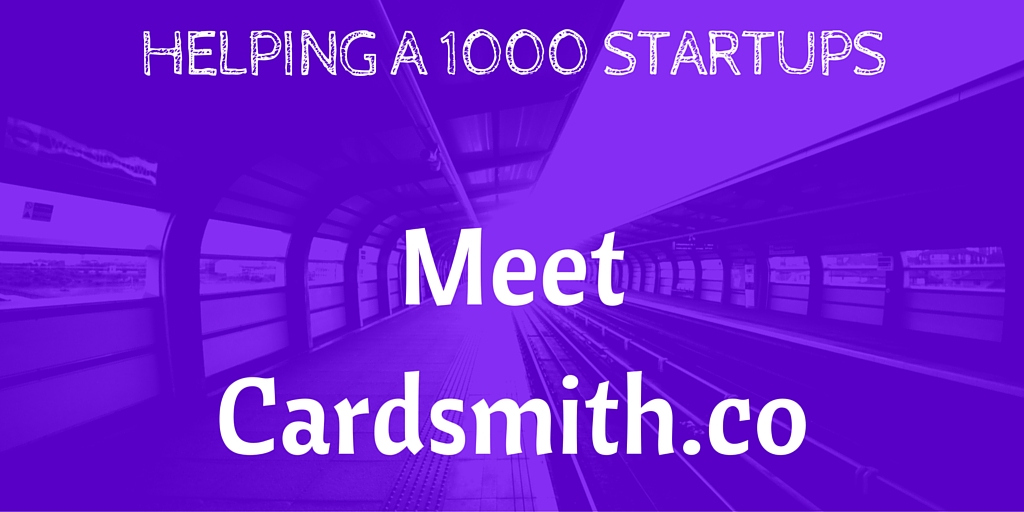 As part of the Help a 1000 Entrepreneurs project that I have launched, the first enterprise that I would like to promote and share about is CardSmith.co.
You will love this product if you like using Post-It notes.
I do a lot of facilitation and use a lot of post-it notes during facilitation. These notes are unique in the sense that they allow people to think first and align their thinking based on whatever framework that they want to use at a later point. They have the possibility to enable individual reflection and at the same time group work. They are easy to use, improve brevity, are conducive to have much more than texts and are cheap and ubiquitous.
They do have one disadvantage, its that they need to be still captured somehow and shared with the team. Now, with the world getting more and more digital and it becomes an onerous task of capturing all the information on the post-it notes digitally. Also, what happens when you are trying to facilitate a virtual workshop. There are not many tools that are available,which are a good fit for such a use case.
Enter cardsmith.co.
I think that the founders have created an extremely simple and easy to use product that can make virtual collaboration as much fun as face-to-face collaboration is using post-it notes.
What I like about the product:
Simple and user friendly UI.
Quick and easy to set-up and use with almost no learning curve.
Its easy to set up a board, which could then have free flowing notes or a formal grid based framework that can be used to capture thoughts more systematically. Alternately, you can capture thoughts randomly as our minds think and then re-arrange them in a framework.
Its extremely simple to share your board with anyone, almost with a single click.
You can add pictures, to-do lists, numbers to the notes, which make them that much more richer in content.
What I would like to see more in the product:
In addition to the Row x Column framework, I would like them to also support other popular frameworks like maybe a Venn Diagram. Venn diagram is one of the framework that a lot of facilitators use to prioritise ideas and make decisions. So, adding support for other more popular frameworks, makes it even more interesting and feature rich.
One of the biggest challenges that people have while using the post-it notes and if done really well, can have a big impact is the use of pics. Can the team actually provide a set of royalty free vector images that people can use (multiple pics in a note to paint a story or a scene) in a note. This can enhance the effectiveness of the tool multi-fold.
Business Model:
The team has opted for a freemium model with a monthly fee of 9USD a month for a premium edition and the same fee for a team edition. I would suggest that they also add a student version with a fee that is between free and 9USD. If marketed well, students can immensely benefit by using the tool for making notes, which they can then share with their classmates and use it for revision.
I also think that the cost for individual premium use and team use could have been either at different price points as the current pricing is a bit confusing.
I don't see an app on their website.. Not sure if developing an app is already on their timelines but could be an interesting addition.
They also run an interesting referral program hoping to get some amount of traction from users inviting their friends. They limit the maximum no of free premium subscription months to 7, which I would think about modifying a bit so that if there is a customer who is willing to continue to invite his friends, team mates, should be allowed to continue to do so.
Ideas for the founder:
All blog posts that the team creates should also accompany a publicly shared board created using their tool. This will ensure that every time the post is shared, people can actually see how the post came alive and how easy it is to come up with content using the tool.
Pick a book every week and create a board out of it and share it on the social media. This way the team would have read the book and learnt something, by creating the board they would have some of it internalised and at the same time created content that can be useful for a lot of others, which could potentially lead to more people sharing the board and spread the word about the tool.
They could do the above for podcasts or movies or any other long format content as well. If the team records itself while doing these board, these videos can also serve as tutorials for their (prospective) customers.
 Instead of the team access option, the team could potentially re-name it as enterprise edition and can then charge a bit more than the 9USD per month per person.
If possible, create a education version for universities and give it to them at a substantially low price. Once you have the students start to use the premium version in their universities, you can expect them to carry this to the organisations that they will end up in (or starting).
Overall, if you love post-it notes and use them to structure your thoughts, I would strongly recommend that you try out cardsmith.co and get a free month of premium access for free.
I wish the entire team of Cardsmith a lot of success!