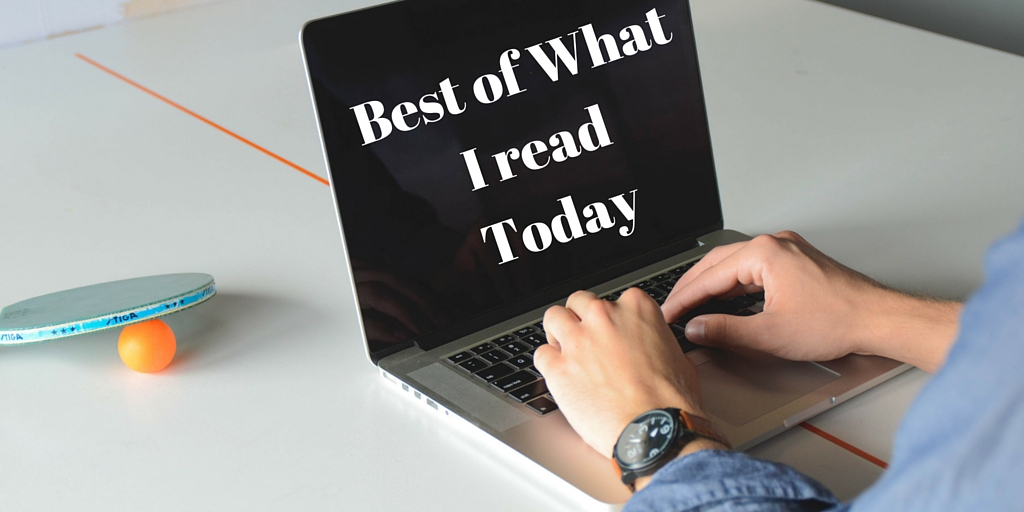 I read a lot and on diverse topics. I used to share all the interesting stuff on Twitter and Facebook, but realised that searching for them at a later point (in case someone wants to find out more or I want to connect with someone) became extremely difficult.
Also, my friends said that it is easier for them if they can find all the interesting stuff that i find in one place so that they can visit one single post and decide to read something that they find interesting as well.
Hence, going forward, on days that i read and find interesting articles, blog posts, books, podcasts and any other piece of content, i will share them in a blog post titled – "Best Among What I Read Today" and publish on my blog.
Here is today's content that i found interesting. You can look at all the past posts here.
How Top Salespeople Land Hard-to-Get Meetings:
In this HBR post, Stu Heinecke, author of the book – How to Get a Meeting with Anyone, shares some interesting tactics that we can use to get meetings with most senior executives. I have used a few of these tactics in the past and must say that I had surprisingly good results.
Irrespective of what field we are in, we always need to gain time and attention of someone and the tactics shared by Stu can help us get the time.
You can read his complete post here.
Why Man Creates:
This video talks about the creative process and seeks to understand Man's need to create something and explores the creative process itself. It was written by Saul Bass and Mayo Simon, and directed by Saul Bass. It won the Academy Award for Documentary Short Subject.
Why Man Creates from Paracelso Zeppelin on Vimeo.
Use Your Arm as a Smart Watch Touch Pad
We are continually inundated by smart devices. These devices are both getting bigger and bigger (iPad Pro) and smaller and smaller (iWatch or Moto Gear). When these devices get smaller, it gets difficult to operate them using our fingers as our fingers tend to be big for the devices. In order to overcome this problem, there is a team that is working to come up with a novel solution, which they have adapted from how mobile towers triangulate the position of our mobile devices as we go.
The team has come up with a way to use the skin of our our arm to control the smart device (Watch or similar). This is still experimental technology, but still they claim to be able to get 99% accuracy on their ability to position the touch on the device based on the skin and gesture control.
More about this here or watch the video below:
How To Get Great People To Work For You with Vishen Lakhiani
We all need to hire people at some point in time and it is critical that we are able to not only recruit great people and then continue to keep them working with us, specially if they are performing well.
In this short video Vishen shares some very interesting tactics that we can all learn and implement in our businesses.
This edition of the post is heavy on videos.
Some disclaimer is needed here. I had watched Vishen's video and the video about "Why Man Creates" sometime back and am sharing now.
Hope you like the content that I have put together here. If you have any interesting post/video, pls do share them in the comments section here.