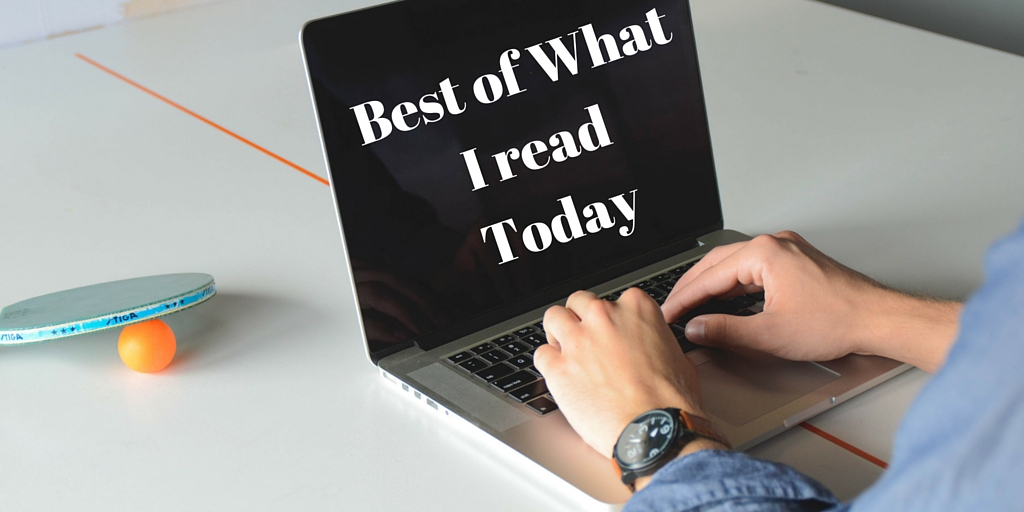 I read a lot and on diverse topics. I used to share all the interesting stuff on Twitter and Facebook, but realised that searching for them at a later point (in case someone wants to find out more or I want to connect with someone) became extremely difficult.
Also, my friends said that it is easier for them if they can find all the interesting stuff that i find in one place so that they can visit one single post and decide to read something that they find interesting as well.
Hence, going forward, on days that i read and find interesting articles, blog posts, books, podcasts and any other piece of content, i will share them in a blog post titled – "Best Among What I Read Today" and publish on my blog.
Here is today's content that i found interesting. You can look at all the past posts here.
This is one topic that I am paranoid about not being able to put in practice. I have found it extremely difficult to find time on my calendar and plan my week in advance to do stuff that makes the needle move the furthest.
In this post, Anthony clearly articulate the importance of planning the work in advance for sales folks, but the same can be true for all of us.
You can read the entire post here.
Mastery ås a topic seems to be following me everywhere i go and all that i read. When Hugh McLeod talks about Mastery, I sit up and take notice.
In this short (his typical style) he shares one of the least used and most difficult, yet the best way to achieve mastery – one small step at a time, improving with every step.
He shares the story of Jiro Ono, one of the worlds best Sushi chef (3 michelin stars) and his story of how he mastered the art of making sushi – one sushi at a time.
You can watch the documentary film that he refers to in the post, that chronicles his journey and his simple strategy for mastery.
In this Freakonomics Radio episode, psychologist Angela Duckworth argues that a person's level of stick-to-itiveness is directly related to their level of success. No big surprise there. But grit, she says, isn't something you're born with — it can be learned. You can listen to the entire episode below to learn more about Grit and how to develop it.
If you liked this collection of posts, do share the same within your social network as well.