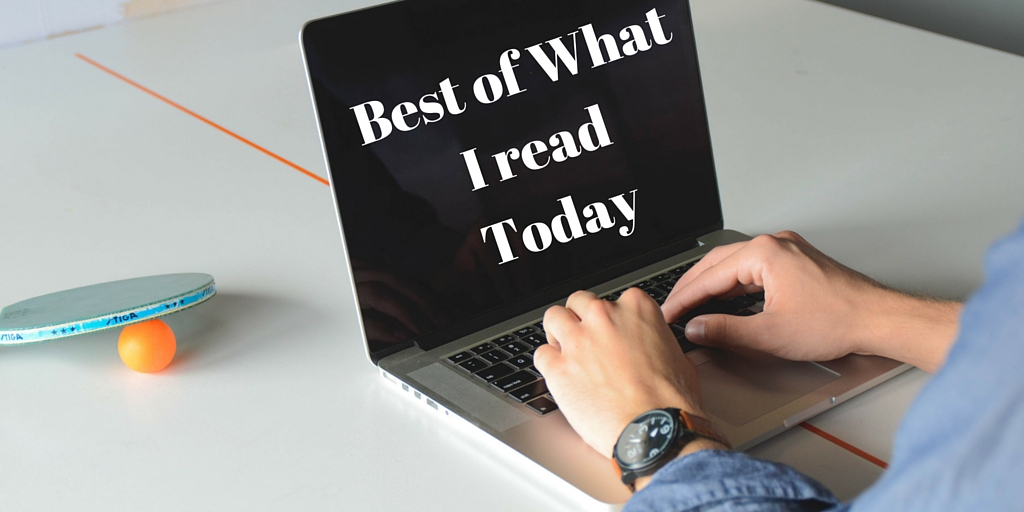 I read a lot and on diverse topics. I used to share all the interesting stuff on Twitter and Facebook, but realised that searching for them at a later point (in case someone wants to find out more or I want to connect with someone) became extremely difficult.
Also, my friends said that it is easier for them if they can find all the interesting stuff that i find in one place so that they can visit one single post and decide to read something that they find interesting as well.
Hence, going forward, on days that i read and find interesting articles, blog posts, books, podcasts and any other piece of content, i will share them in a blog post titled – "Best Among What I Read Today" and publish on my blog.
Here is today's content that i found interesting. You can look at all the past posts here.
In this blog post, Eric Barker stitches together research done by multiple researchers into one single narrative to help us build new habits (good one's) and stick to them. We can all have a significant impact in our lives, if only we could identify, create and make a keystone habit stick. This post talks about the 6 things that we could do to enable us to stick to the good habits.
The steps that he mentions are:
Start with a Keystone habit (one that can make us change the way we feel about ourselves)
Use Minimal Viable Effort (make it easy for you to do the action)
Make a plan (Having a plan is better than not having one, even if you don't use the plan).
Reward yourself.
Use reminders or triggers to remind to do the action.
Get help from friends (external accountability mostly works).
You can read the detailed post here.
This piece of hardware/software combo can make the world an even smaller place. This device promises to translate between (English, Spanish, French, Italian, Portuguese) and have plans to include much more languages to follow. The device is targeted towards international business travellers or tourists.
Looks like we are moving towards a world where language will no longer be a barrier for communication and commerce.
Question is, what happens to the folks who currently work as language translators?
You can read more about this product here.
You can find all of the announcements that Google made at the I/O conference at this one single page.
I personally think that some of the biggest announcements were an attempt to catch up from Google and that it is now showing signs of having all the challenges that large corporates face when it comes to their ability to continue to out-innovate competition.
You can read more about all the announcements here.
In this piece on FastCompany, Martin Lindstorm explores the connection between Boredom and creativity. He goes on to argue that if we want to remain creative or even increase our creative output, one of the most important things that we need to do is to find time for our minds to get bored.
As writer and philosopher Robert Pirsig claimed, "Boredom always precedes a period of great creativity." Even if that isn't always the case for you, chances are you need to be a little bored in order to generate your most inventive ideas and produce your highest-quality work.
You can read the entire post here.
Your Turn
Pls do share any interesting article/post/book that you have come across recently in the comments section.